For forty years Apicoltura Casentinese has been passionate about safeguarding nature, its fruits and the living creatures that produce its wonderful treasure.
Respecting and preserving the knowledge handed down over the centuries by farmers and beekeepers, everything we do reflects our commitment to protecting and harnessing the special taste and quality of pure, natural products.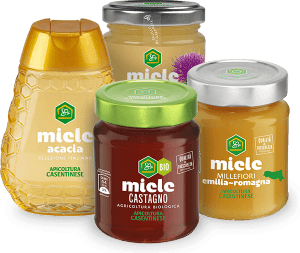 From the bees to the trees to the final product, Apicoltura Casentinese honey is pure, authentic, great for your health and absolutely delicious. Cold-extracted, it is ideal as a sweetener instead of sugar, as an extra ingredient in your recipes or a condiment on your table where it arrives "direct from the hives".
From the orchard to the jar as nature intended.
Our SoloFrutta compotes are completely natural and packed full of delicious taste. The secret lies in just 3 simple ingredients: a dash of grape juice, a few drops of lemon juice and oodles of gloriously ripe fruit, in fact 115 grams for every 100 grams of compote. With its perfect balance of thickness, consistency and sweetness, SoloFrutta sets the benchmark in organic compotes.
Our Gourmet compotes are all about capturing and enhancing fresh flavours to create a unique taste sensation. That's why only the tastiest, most succulent fruit and vegetables are picked then lovingly cooked for the Gourmet line.
Share your experience with hashtags
#apicolturacasentinese
#faredelbuono
Visit the website
www.faredelbuono.it